Sage 50 Quantum is one of the most preferred Sage version among the small and medium sized industries. It is considered as the excellent solution that accords for specific businesses like: construction, distribution, manufacturing and non-profit. The software is assimilated with so many strong productive features and tools that helps the specific business class to accelerate quick growth and profit. The latest 2018 Sage 50 Quantum version has been released with new features.
Highlights of Sage 50 Quantum:
Manage Business Finance: Enhance your business accuracy and security with the latest Sage 50 Quantum 2018. The software easily amalgamates with Generally Accepted Accounting Principles (GAAP).
Management of Customers: Help your business database to organized and merge along with the business process related to customers. It is the best way of managing the market price and accord outstanding customer service.
Manage the Inventory: With this feature you can maintain a track of your orders and maintain its regularity.
Management of Vendors: It helps to go through the information of the supplier that includes PO (Purchase Orders) and Payments with just one click.
Manage Payroll: With Sage 50 Quantum 2018 managing payroll is smooth and easy. It accords many services such as: tax forms printing, e-filing, direct deposit and outsourcing the complete payroll service.
Intelligence Reporting: Easily stay updated with your financial services with Cash Flow Manager and Collection Manager. Also you can generate reports that can be customized and merged with Microsoft Office.
Industry Specific Features: Sage 50 Quantum 2018 assists specialized industries for better management of the regular business tasks. It authorizes exclusive functionality and reporting needs retaining the efficiency of the software.
Multiple User Management and Security: It allows to supplement maximum 40 users and helps in easy management of admin center.
Read This: Hard Drive Failure Sage 50 Premium Quantum
It's easy for those who work directly with clients
• processing accounts payable
• cash flow management
• generating financial reports
• processing payroll
New Way to Business – Implement Sage Accounting, Payroll and Payments
Keep business data secure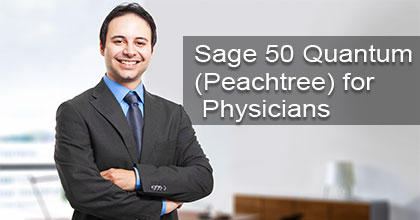 Each physician's practice is set up as a different firm within Sage 50 Peachtree Quantum, and hard security guarantees that each firm is accessed only by the staff members directly involved with that client.
Why Error Occurred Opening Company File in Peachtree
Easy to use, reasonable to run
Sage 50 Quantum (Peachtree) for Physicians performs all the essential accounting functions as per business requirements.
If you want to contact with Sage 50 Quantum (Peachtree) support expert, just call toll free phone number at 1-800-273-5709 anytime.